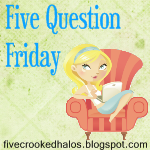 1. What is your favorite thing about summertime?

I love the longer evenings ~ outside playing with the children, walks, reading a book, crocheting or just watching a movie. OK ~ maybe sometimes I hit the computer.



2. What is your ideal retirement location (if money didn't matter)?

Defintely where there is lots of trees, mountains, and a creek that I could see from my window. Somewhere in the country. However, I would like to have a summer beach house, too. Is that too much to ask for considering I live in house with 6 people of the opposite sex? Not including pets, either.



3. Do you live in the same town you grew up in?

No, I grew up in Kingwood, Texas (just north of Houston) Now I leave just east of Dallas.



4. What nervous habit did you have as a child that you kicked to the curb before becoming an adult?

Well, I kicked that sucker to the curb....Don't remember it, silly!



5. What is the most embarrassing thing that happened to you while on the job?

My last name is Craft, not Crap for that matter. We had a new dingbat as a receptionist. She announced on the intercom..."Jill Crap you have a phone call on Line 2." Needless to say, I corrected her promptly in my not so tame tongue. She didn't last long. But that was a hundred years ago... I have been a SAHM for over 9 years.